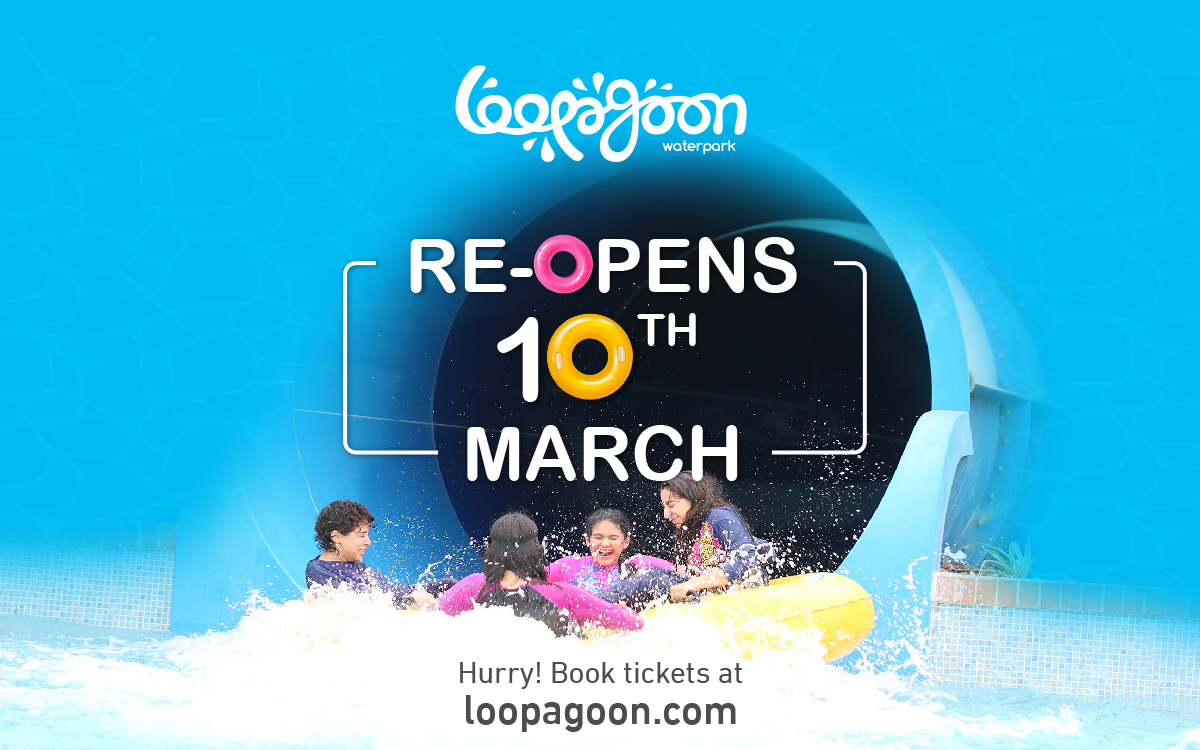 Loopagoon is Back on March 10th!
We're delighted to announce that Loopagoon is set to reopen on March the 10th, and we couldn't be more excited to have you back to our beautiful water park. Over the past year, we welcomed more guests to our pools, private beaches, and world-class water slides than ever before, and launched several of the attractions which make Loopagoon the place to be for unforgettable family days out!
With Spring just around the corner, there's simply never been a better time to begin planning your next trip to Loopagoon. There's something about splashing in the water, testing your nerve on our stunning array of slides and adventurous attractions, and chilling out on the private beach that makes for lasting memories to cherish. It's the perfect opportunity to leave your cares at the door, indulge your body and mind in the unique relaxing properties of water, and give the kids a treat they'll truly enjoy.
Start Planning Your Next Trip
We'll be opening our doors for the season on the 10th of March 2022, and will be running all of our popular slides and attractions as normal. Opening times will be from 11 am to 6 pm Monday to Saturday, allowing for plenty of opportunity to make the most of our fantastic facilities with your nearest and dearest.
While we will be closed most Sundays, we've decided to keep the water park open for the entirety of the School Holiday period, meaning any day between the 10th to the 19th of March, there's simply no place better to be! Kids of all ages will absolutely love swimming and exploring our fun-packed site, and smaller children will have the time of their lives as they explore their senses in the ever-popular Kids Aqua Venture water playground. School holidays, after all, should be all about spending time together and having plenty of fun – and that's what Loopagoon does best!
Attractions and Facilities for a Day Out to Remember
We love hearing the feedback we get from our guests at Loopagoon, and one of the most common things the public have to say about our water park is that there's simply so much to do, and so many things to enjoy! We know that variety is the spice of life, which is why we've spent so much time packing our water park with the best slides and attractions in the region, allowing you to have non-stop fun with family and friends.
From the high-octane thrill of our Tornado and Cannon Bowl slides, which send you on a spinning and splashing high-speed adventure, to perennial favorites like Pipelines and Octopus Racer, we've got slides and attractions fit for all. Fancy something a little more laid-back and blissful? Our Lazy River will take you on a gentle tour along its winding route, calming your body and mind as you go. Want to pick up a brand new skill, and test your mettle against the waves? Give the Flow Rider surfing experience a try, or spend some time in our huge Thunder Waves pool with its rolling waves and tropical atmosphere.
Of course, nothing can beat the sense of bliss, privacy, and relaxation of our beautiful Ladies Private Beach – the perfect spot to stretch out, luxuriate the senses, and catch up with friends, and our fabulous food and drinks kiosks will keep you refreshed from start to finish. With so much to see and do, it's no wonder that you'll be keen to plan another trip from the moment that you head home from a fantastic day out!
Loopagoon Packages and Deals
With that in mind, those looking to really make the most of our facilities and programs can enormously benefit from one of our superb package deals and memberships. An annual pass at Loopagoon will allow you to come as many times as you want throughout the year, and give you unlimited access to all of our world-class facilities. At just Sr.1,999/-, it comes with a huge saving, too! A 6 months pass provides similar bargain rates at just Sr.1,599, and gives you the same level of unfettered access for half a year of splashing fun.
Our regular rates offer fantastic value for adults, children, family groups and more, and promise a day to remember in a remarkable water park unlike any other. Full prices and details of passes are as follows:
With so much to explore and so many memories to be made, we can't wait to see you again from March the 10th. Start planning your visit today! Buy your tickets here