Our Signature Attraction Flow Rider Opens
It's Time to Unveil the Flow Rider – Loopagoon's Latest Signature Attraction
Over the past year and since we first opened the doors of our beautiful water park, the creative team at Loopagoon has consistently been seeking out new ways to thrill and delight our esteemed guests. We've
Opened our stunning Ladies Private Beach,
Launched our fantastic boutique filled with souvenirs and branded products to take home &
Broadened range of food and beverage options,
However, our latest launch – Flow Rider – is our most exciting yet… and we just know you're going to love it!
Flow Rider is our unique indoor surfing facility, designed to introduce an unforgettable new dimension to your trip to Loopagoon. Premiering this week, on Thursday, 23rd Sept 2021 as our signature attraction, it's a world-class water sport adventure that's just awaiting to be experienced by each and every one of you & its open to all age groups
Now, not only can you come and unwind in our gorgeous pool, relax on our private beach, race your friends down our varied and exciting water slides, and feast on the local and international delicacies on offer… you can also master the basics of surfing the waves, and test your skills on Flow Rider. We've no doubt this signature attraction will be a huge hit with our visitors of all ages, and we cannot wait to welcome you, your friends, your family members, and anyone else keen to give surfing a try!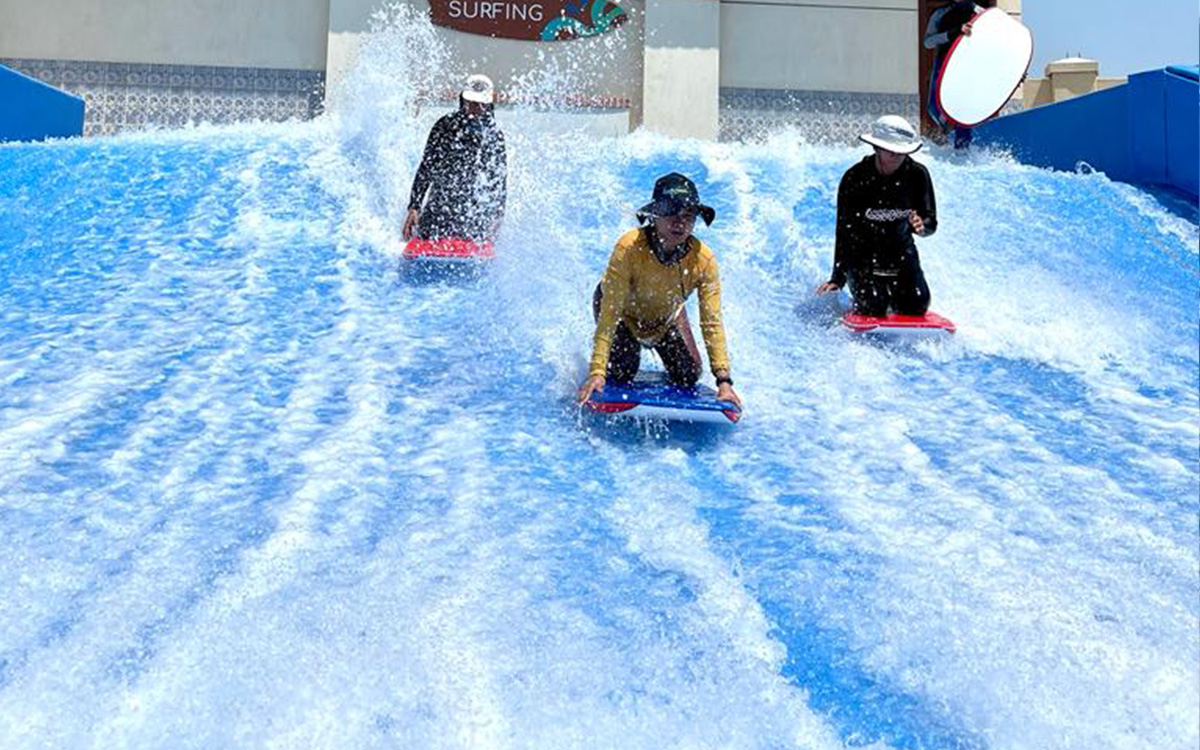 A Thrilling Activity for Absolute Beginners
The chances are, like most people, you're completely new to the idea of surfing. Maybe you've caught a glimpse of surfers enjoying the waves on the beaches of the Gulf, or have watched surfers in the movies and always wondered how it feels to ride the water… well, now's your chance to make the first all-important steps in this fun and thrilling activity.
Flow Rider is ideal for absolute beginners to surfing, and offers a safe and secure environment in which to experience the thrill of catching the waves. Beginners will start with body boarding – a comfortable and less-intimidating type of surfing which involves lying on your belly on the surfboard, and finding your balance on Flow Rider's fast-moving sheet of water. It's a whole lot of fun, and the ideal introduction to the sport.
Due to the nature of the activity, and due to our commitment to visitor safety, please note that body-boarding is only suitable for guests with a height over 1.1 metres
BODYBOARD :

Ideal for first-time surfers or those seeking a more comfortable and straightforward option, bodyboarding involves surfing while lying on your belly or kneeling on the surfboard.
Exciting and exhilarating, it's perfect for those seeking a new way to have fun in the water.
Bodyboarding features a minimum height requirement of 1.1 metres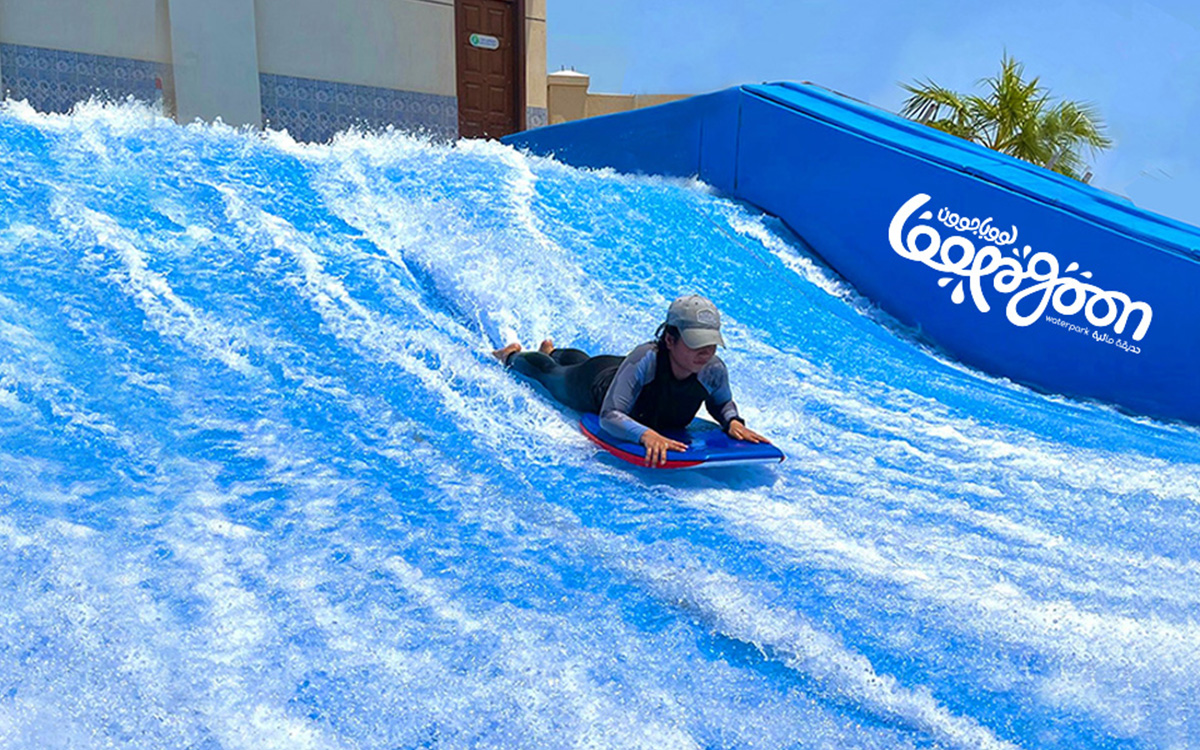 Now For Something a Little More Challenging
Once you've mastered body-boarding, or if you're a more experienced surfer who knows their way around a surfboard, it's time to progress on the Flow Rider to the next step – flow-boarding. A more challenging, yet also more rewarding type of surfing, flow-boarding involves either kneeling or standing on the surfboard, and balancing as the waves rush beneath your feet!
As with bodyboarding, our dedication to keeping our guests safe and secure while at Loopagoon means there is a height restriction for flowboarding. Only visitors measuring over 1.3 metres are permitted to take part in this activity.
FLOWBOARD :

Fast, fun, and a fantastic way to enjoy your time in the water, flowboarding involves stand-up surfing.
While many people are more than content with bodyboarding, standing up and flowboarding presents an exciting new challenge for more confident surfers, perfect for getting the adrenaline pumping!
Suitable for those who are already comfortable with bodyboarding, and seeking a new way to enjoy the waves
Flowboarding features a minimum height requirement of 1.3 metres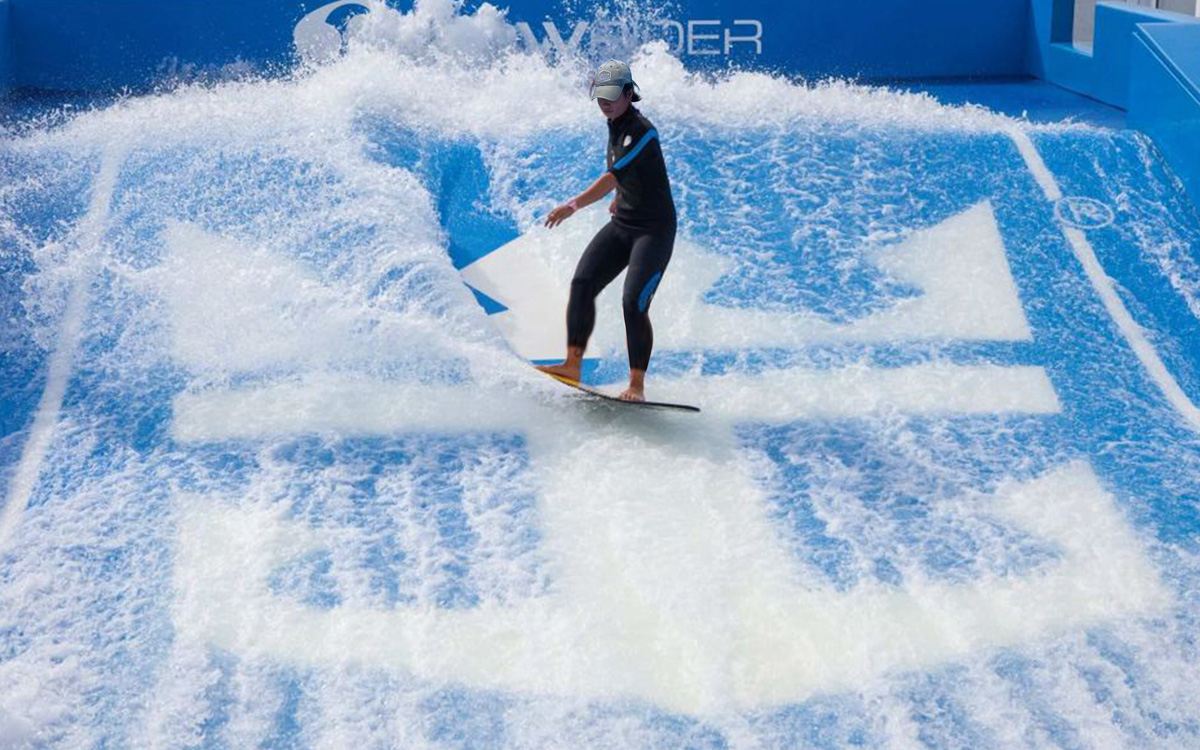 A Whole New Dimension to Your Loopagoon Adventure
We couldn't be more excited to see our guests bodyboarding and flowboarding on Flow Rider, and we have no doubt that it's going to be every bit as thrilling and as joyful as we anticipate.
We've got no shortage of world-class water park attractions here at Loopagoon, and Flow Rider is perhaps the clearest indicator yet that we're committed to ensuring every visit to Loopagoon hits the highest heights of enjoyment for all. There's no getting away from the fact that Flow Rider brings a wholly new dimension to your water park experience, allowing you to genuinely explore a totally new skill and activity while enjoying our facility, and it's an experience you're sure to remember forever.
The best part? The adrenaline rush that Flow Rider provides can be followed by all the relaxation and blissful tranquility you desire… and once you've had your fill of lying on the beach and sipping a delicious drink, or winding your way along the Lazy River, you can come back to Flow Rider for another chance to test your surfing skills and smile as you ride those waves!
Safety and Peace of Mind Guaranteed
No matter which of our attractions you're enjoying at Loopagoon, nothing changes the fact that your safety, well being, and happiness comes first. This is as true for Flow Rider as it is for any of our slides and activities; we've worked hard to provide an expert team at Flow Rider, who won't just provide all the demonstration you need in order to know how to bodyboard or flowboard while using the facility, but who will make sure you're in the safest possible hands while doing so. Indeed, Flow Rider is so safe, we've deemed it suitable for all guests of all ages, so long as they meet the minimum height requirements.
We've worked hard to make sure that Flow Rider is safe, secure, and suitable for our guests' enjoyment, and that you'll be under expert supervision the whole time you're riding those waves. As such, the only thing you have to do is let go of your worries and cares, climb on that surf board, and let the waves take you to new heights of enjoyment!