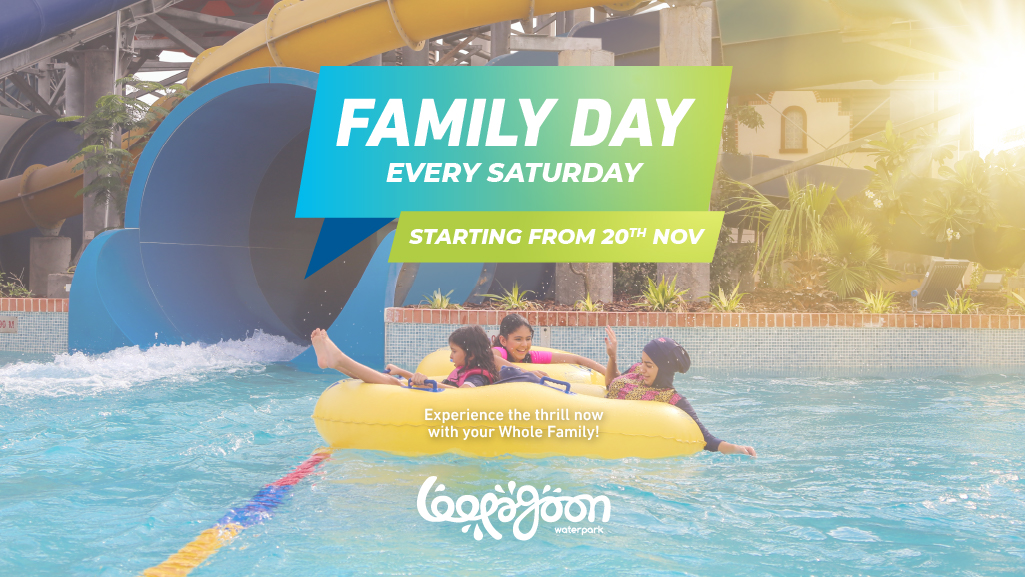 Get Ready: Family Fun Days at Loopagoon are Coming Soon!
As Saudi Arabia's first ladies-only water park, Loopagoon has brought joy to women across the kingdom looking to relax amid our beautiful surroundings, and make the most of our stunning array of rides, private beach, and attractions. Now, we're delighted to announce our forthcoming Family Days, when we'll open our doors to family groups seeking splashing fun and exciting adventures at our world-class facility at Dana Bay!
Starting on the 20th of November, and scheduled for select Saturdays following our Family Day launch, we can't wait to invite families into our water park. With a fantastic range of fun-filled activities and opportunities for blissful relaxation, Loopagoon is committed to providing unforgettable days out for mums, dads, and kids alike, forging memories which will be cherished for years to come.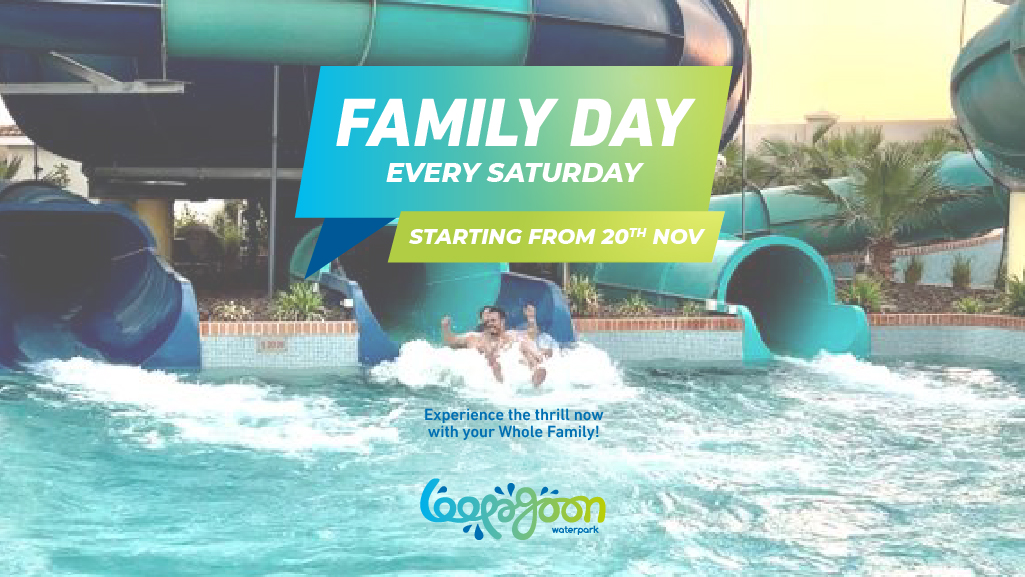 A World of Adventure Awaits
This month, you and your family members are welcome to experience the thrills which await at Loopagoon, and spend time together exploring our superb attractions, kiosks, and pools. No matter what you wish for from your visit, you're sure to find the utmost in satisfaction at our water park, giving children and parents the chance to truly unwind and make the most of what we do best.
Looking for adrenaline-fueled adventures with the kids? You'll adore our range of fast-paced water slides, including the ever-popular Cannon Bowl and Tornado, amongst several others. Seeking a moment of relaxation? Our private beach and Lazy River will allow you to leave your worries at the door as you unwind in style. Want to try something completely new, and test your mettle on the waves? Our latest signature attraction – the Flow Rider – will allow you to experience the thrill of surfing and body-boarding, guided by expert professionals who will show you the ropes.
Of course, there's plenty for the kids to enjoy, too. From our fun and family-friendly water slides to the fantastic Kids Aqua Venture and Spray Ground, little ones will love spending time in the water in a safe and welcoming environment. With so much on offer, we always advise turning up early to Loopagoon, to make sure you have time to check out all the attractions throughout your visit!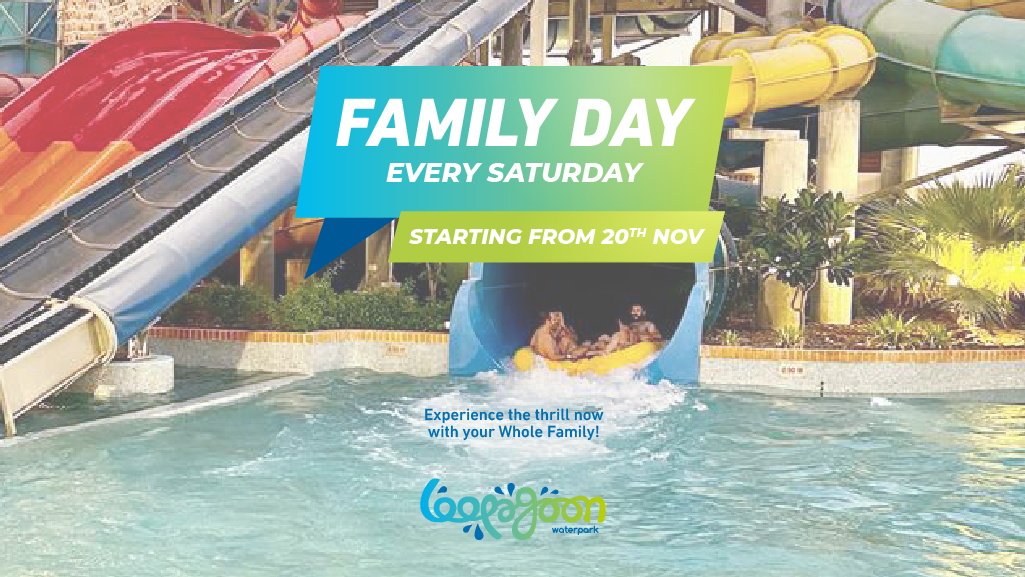 Unforgettable Treats for All the Family
We've worked hard to cover all the essentials at Loopagoon, as well as providing services which help to make your trip to our water park as memorable as it deserves to be. That's why we've established a brilliant array of food and drinks options, serving regional and international specialties and delicious cooling beverages, ensuring your senses are satisfied from the moment you arrive until the moment you leave.
With our innovative automated wristband payment option, you won't have to worry about bringing cash to the water park. Furthermore, our secure lockers, towel rental, and other services and facilities mean that you and your family can relax in the knowledge that you're in the best possible hands.
Amazing Savings for Family Guests
Our Family Days come with our exclusive Family Package deals, meaning you can make big savings on ticket prices when you turn up with your spouse and kids. Our Family Package Combo entry deal costs just Sr. 750 – which includes two adults and up to three children – and individual ticket prices remain at Sr. 230 for adults and Sr. 125 for kids. Don't forget, children under 3 years old are welcome to Loopagoon free of charge with one paying adult.
Park Rules for Family Day
We want everyone who comes to our Family Days to feel as comfortable and safe as possible, and as such, we've laid some simple rules for men's attire when visiting Loopagoon. Please ensure that you wear either a one-piece swimsuit, a rash guard, appropriate swimming shorts, or a gym vest. Swim shorts with buttons or zippers, cotton or denim shorts, cotton track pants, boxer shorts or speedo-style swimming briefs are strictly prohibited. We're happy to answer any questions you might have regarding swimwear for guests to Loopagoon, and can easily point you in the right direction if you're unsure of what to wear.
Please be sure to abide by the following guidelines:
Entry is for family groups only
Family groups consisting only of men are permitted, and the same applies for family groups of women, too.
Girls over the age of 10 are not permitted to use the Attractions.
Girls below the age of 10 will have their age verified at check-in, and issued a separate wristband.
Girls below the age of 10 are permitted to enjoy any ride in the park. For attractions which require an accompanying adult, a parent or guardian may join.
Men must follow the aforementioned swimming attire rules.
Mobile phones are permitted inside the waterpark.
The private beach will be open for everyone to enjoy.
All other rules and regulations which apply on non-Family Days will remain enforced.
Should any guest break the rules or engage in unruly or unsafe behaviour, Loopagoon reserves the right to ask them to leave the park.
The ticket holder consents to photographs, video, sound recordings of ticket holder be captured and used in printed and electronics media, including the internet as an attendee at the venue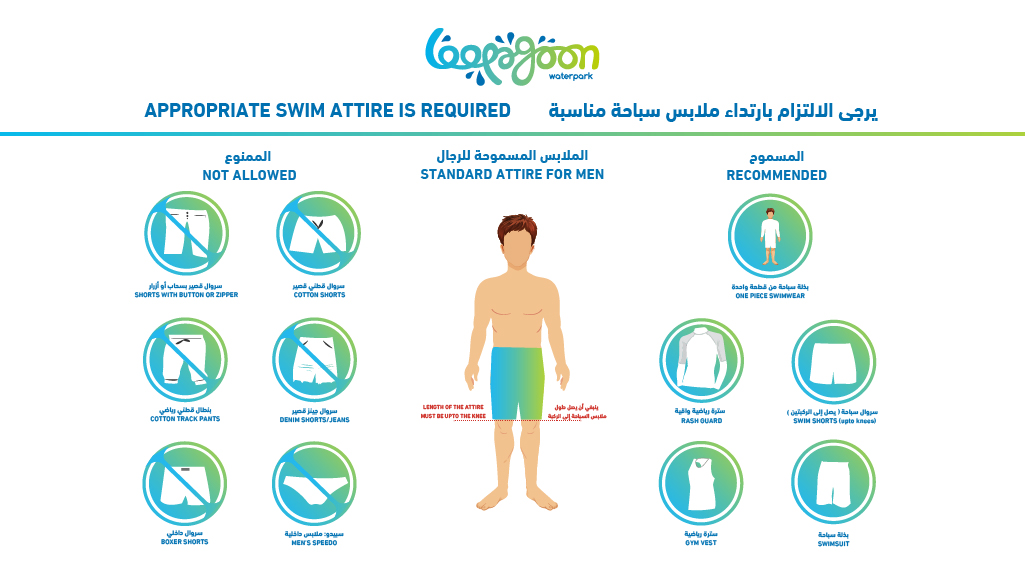 Loopagoon Family Days will begin on November 20th, and will run every Saturday for the remainder of the year… and possibly beyond! It's time to pack your swimsuits, plan your diaries, and get the whole crew down to Loopagoon, and start exploring the endless possibilities for unforgettable splashing fun!
So, hurry up and buy your tickets now! Click here to visit our ticketing page