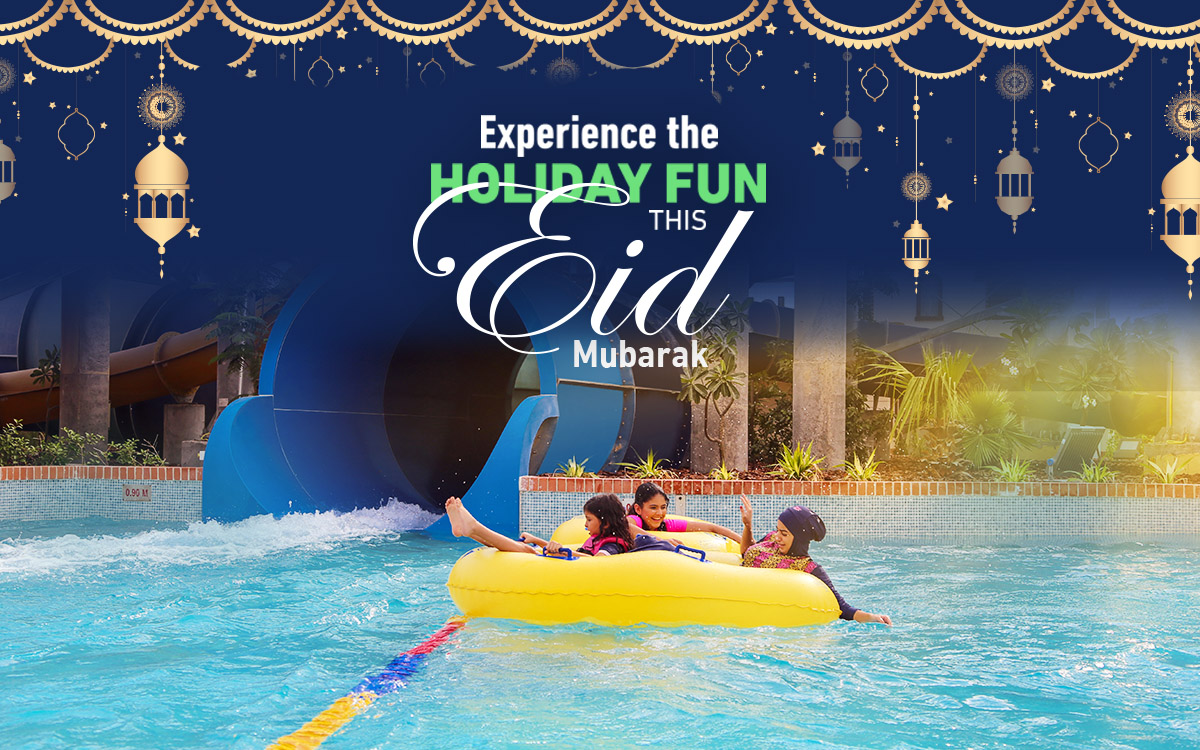 Make Eid 2022 Even More Special with a Family Trip to Loopagoon
With Eid just over a month away, it's time to start planning your celebrations! We love this special time of year – it's the perfect opportunity for families to come together, enjoy quality moments and fun-filled adventures, and create memories that last a lifetime.
Every day at Loopagoon, we specialize in ensuring all of our treasured guests spend each moment at our beautiful water park with a huge smile on their faces… and this Eid, we can't wait to welcome you, and have the opportunity to show you and your loved ones why we're such a popular choice for family days out with a difference.
From adrenaline-fueled water slides to blissed-out private beache, from wave pools to superb food and drinks options, and from our spectacular setting to our world-class facilities, it's no wonder families just like yours are busily planning an Eid trip to Loopagoon. Let's dive in, and explore why Loopagoon should be right at the top of your list of plans for an Eid celebration you're sure to remember!
Family Packages for Big Fun and Bigger Savings
Loopagoon was designed and realised with families in mind. From the very beginning, we knew that our water park had to tick all the right boxes for a family trip that promised new sensations, amazing adventures, and no shortage of fun from the moment you walked through the door.
With a Loopagoon Family Package ticket, you can enjoy all the amazing facilities and features that Loopagoon has to offer, for a price that's sure to add to the enjoyment! This exclusive package provides entry for families of two adults and up to three children for just SAR 580 – what's not to love about that?
As the springtime weather starts heating up, and refreshment and splashing fun becomes even more tempting, a family day out to our fantastic water park is even more irresistible than ever!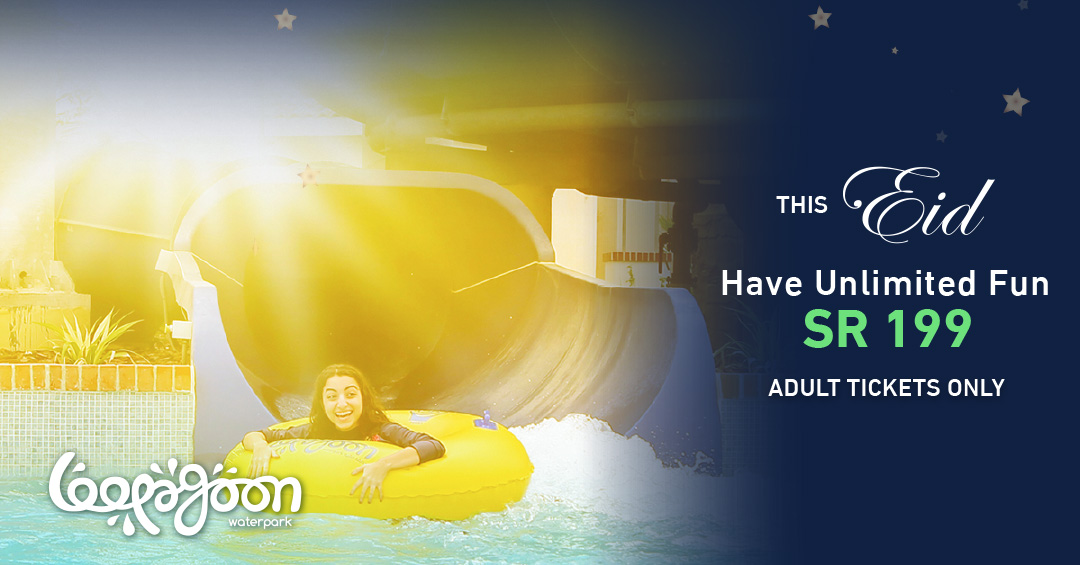 Nothing Beats Time Spent Together
Eid is all about giving thanks for the wonderful things that life has to offer, and to celebrate the end of the Holy Month with those who make life even more beautiful and precious. Nothing is more valuable than family, and nothing compares with time spent with your loved ones laughing, relaxing, and exploring new ways to enjoy those all-important family gatherings and moments.
Loopagoon provides the perfect opportunity for adults and children to come together, leave their worries at the door, and spend some quality time splashing around, zooming down water slides, bobbing around in the waves and generally having a fantastic day out. We love seeing the smiling faces of mothers and children as they float down the Lazy River, and hearing little ones laughing as they dodge the water jets in our Spray Ground – these are the things that memories are made of!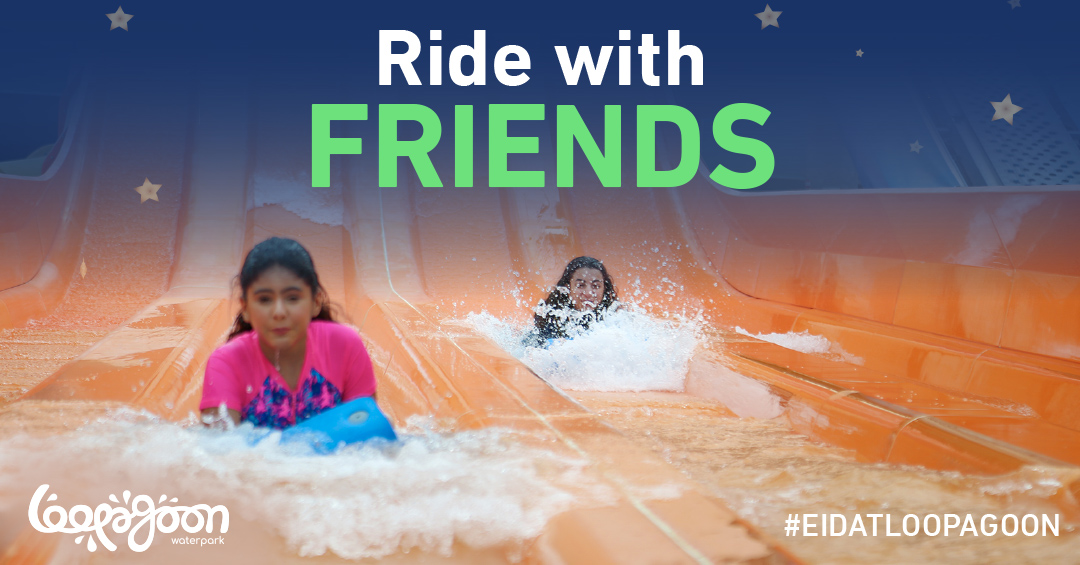 Slides, Rides, and World-Class Attractions
A top-notch Eid day out with your family should have the perfect mix of relaxation and excitement, and at Loopagoon, we look to achieve that ideal balance in real style!
Of course, there's plenty of opportunity to relax on a sun lounger or at our Ladies Private Beach, sipping a chilled glass of juice or enjoying some of our delicious food and beverage options. However, no trip to our water park would be complete without getting the adrenaline pumping, and our amazing water slides and rides are the perfect option for those seeking to really make memories packed full of splashing adventures!
Maybe you fancy challenging a family member on our high-speed Octopus Racer, which lets you challenge your loved ones to a race to a dramatic splashdown. Perhaps you'd prefer to hop into a tube together and zoom down the Pipelines or Twisters flumes. Maybe you feel like pitting yourself against the thrill of the Tornado or Cannon Bowl – which feature hair-raising twists and turns and gravity-defying rotations – or our fantastic new Flow Rider indoor surfing experience. Whichever you choose, there's something for every family member at Loopagoon, and you're sure to love every moment!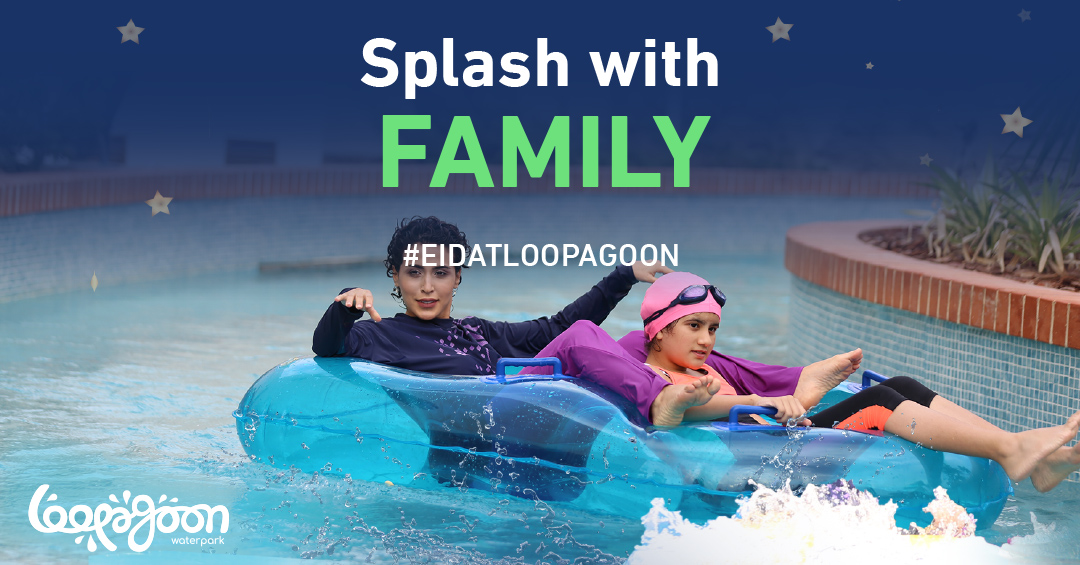 Loopagoon: Where Family Eid Memories are Made
This Eid, give the whole family a treat with a trip to Loopagoon. Our incredible facilities allow you to truly make the most of a day out to Half Moon Bay, and set against the backdrop of the sparkling sea and beneath the gorgeous May sunshine, time spent together in this beautiful part of the country is always sure to be memorable.
We've worked tirelessly to provide a fun-filled set of rides, slides, and pools for guests of all ages – from the high-octane thrill of our water flumes to the gentle fun of the Aqua Venture water playground the little ones – and you're sure to find plenty of ways to connect with your nearest and dearest in a safe, secure, and relaxing environment.
With our Family Package awaiting and great savings to be enjoyed, we're looking forward to welcoming you soon.